Most Popular Items
Check out our fan favorite menu items!
Our Pizzas
Thin Sicilian crust brushed with olive oil & garlic, fresh mozzarella, and spotted with chunky San Marzano tomato sauce.
A tasty combo of fresh mozzarella cheeses with vodka sauce.
With fresh mozzarella, marinara sauce and grated cheese.
Buffalo chicken and mozzarella cheese
Fresh Sautéed Mushroom Pie
Sauteed garlic and oil, fresh mozzarella cheese, and touch pecorino romano cheese.
Our Dishes
White wine & lemon sauce.
Marsala wine & mushrooms.
Butter, cream, eggs and grated cheese.
Large pieces of shrimp smothered in a butter, garlic and wine sauce, served with freshly squeezed lemon juice.
ORDER DELIVERY FROM JUSTINO'S TODAY!
Get New York's best pizza delivered
right to your office or front door!
Fast Delivery
Always On Time
Always Fresh
Largest Selection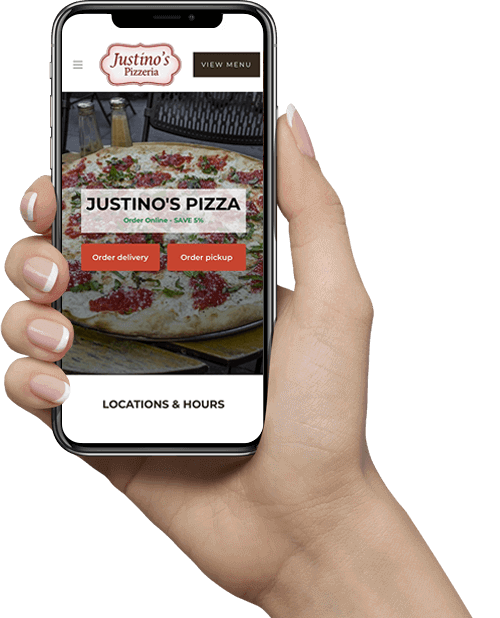 What We are known for
It's no secret that everyone loves Justino's Pizza. From our massive pizza slices to our authentic Italian ingredients, we got it all!
About Justino's
Justin Ali, the founder of Justino's Pizza, has been in the pizza business since the age of 13, where he learned the art of tossing, dressing and baking pizza to perfection. 10 years later, he opened his first Justino's location in Staten Island. By 2015, Justin turned his one location restaurant into an 8-chain empire throughout NYC. Today, Justino's Pizza is the number one choice among local NYC residents. Go where the locals go, come to Justino's!
Justino's Pizzeria – Financial District
77 Pearl St, New York,
NY 10004
(212) 797-9292
Justino's Pizzeria – Fulton Street - Delivery Only
64 Fulton St, New York,
NY 10038
(212) 406-6200
Justino's Pizzeria – Staten Island
89 Guyon Ave, Staten Island, NY 10306
(718) 668-2020
Justino's Pizzeria – 10th Ave
881 10th Ave, New York,
NY 10019
(212) 582-1222
Justino's Pizzeria – 9th Ave
879 9th Ave, New York,
NY 10019
(212) 406-2020
Order Now